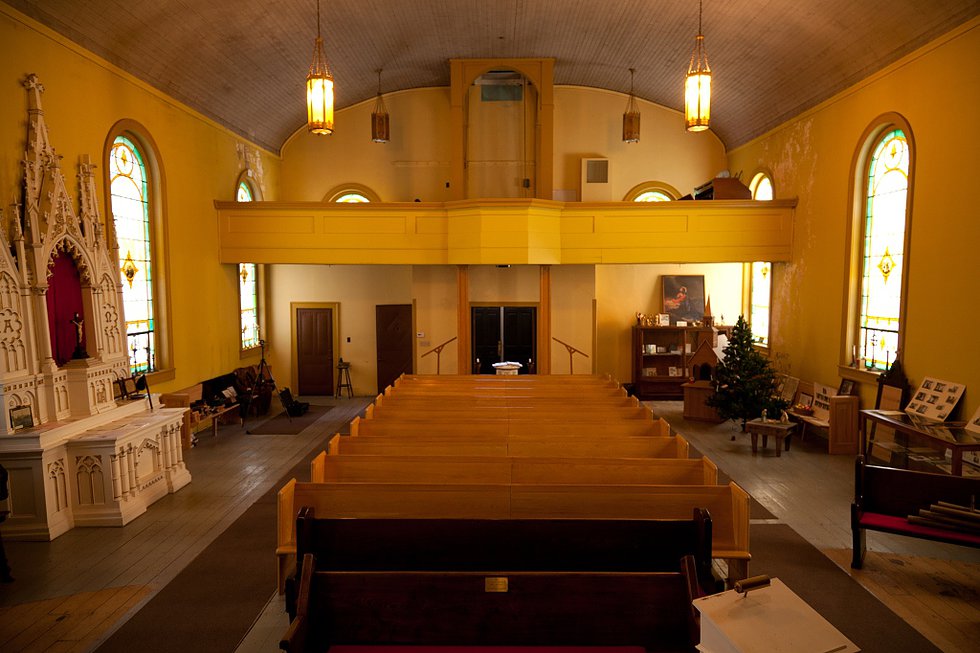 Salem began in 1847 as a loose gathering of 20 German immigrant families. The church began her mission of preaching the gospel on Christmas day that year. Salem's first worship facility, a church made of logs near the present day intersection of 107th Street and Green Tree Road, was dedicated two years later on June 17th, 1849. God's people have been worshipping on or near that spot continuously since that time.
Salem's first full-time resident pastor was Pastor Johann Heinrich Sieker who arrived in Granville (now Milwaukee) in September of 1861. Born in Bavaria and raised in Newton, WI, it was apparent to Sieker's pastor that he had the gifts for pastoral ministry. He was sent to Gettysburg Seminary in Gettysburg Pennsylvania. Upon his graduation and assignment to Salem Pastor Sieker would be known as the first pastor to come out of the Wisconsin Synod. Before him all the pastors were sent to Wisconsin from German mission societies or were pastors and priests of other denominations that turned Lutheran.
By 1861 it became clear that the log cabin church would not be big enough for the worship needs of the growing congregation. The Salem Church, now known as "The Landmark Church," was built then dedicated on October 28th, 1863. The Landmark Church still stands at 6814 N 107th Street and is available for tours by appointment.
In the late 1800s, Pastor Herman Hoffman pushed to establish a Lutheran grade school at Salem. The newly built church was already planned out with a classroom in the dirt floor basement. The congregation passed a resolution to establish a Lutheran school. The earliest existing records from the grade school are from 1885; however, the school may have been established as early as 1873.
The school closed during the World War II years but reopened in 1949. Soon thereafter the church and school enjoyed steady growth. In 1954 the congregation voted to purchase the Maple Tree School building and it was dedicated for the purpose of Lutheran education in December 1955.
In 1969, with continued growth and under the godly direction of Pastor W.B. Nommensen, a new gymnasium, kitchen, and two new classrooms were dedicated. Shortly after, Salem dedicated a daughter congregation: Risen Savior Evangelical Lutheran Church on 95th and Brown Deer Road.
By 1972 Salem was conduction 3 services in its church building. The need for a newer, larger worship facility was recognized and planning for a new church and classroom additions began. The current worship building and classrooms were dedicated in 1977 and a renovation was completed in August of 2015.
By God's grace Salem has grown from a log cabin to a vibrant gospel ministry. By God's grace ministers of the gospel at Salem continue to baptize, instruct, confirm, marry, and serve God's people in the northwest corner of Milwaukee.
Pastors who have served at Salem:
H.L. Dulitz: 1848-1849
Paul Meiss: 1849
Wrede: 1849-1853
Buehren: 1853-1860
Rausch: 1860-1861
J.H. Sieker: 1861-1867
Hoffman:1868-1895
C.F. Duecker: 1895-1900
Walter Hoenecke: 1900-1910
Kneiske: 1910-1920
Gundlach: 1921-1947
R.L. Wiechmann: 1947-1959
W.B. Nommensen: 1959-1992
David Rosenow: 1980-1989
Martin Spriggs: 1988-1990
Mark Voss: 1990-2003
Daniel Simons: 1990-2013
Snowden G. Sims: 1991-1993
Michael Bartsch: 2004-2013
John Raasch: 2014-present
Timothy Soukup: 2014-present