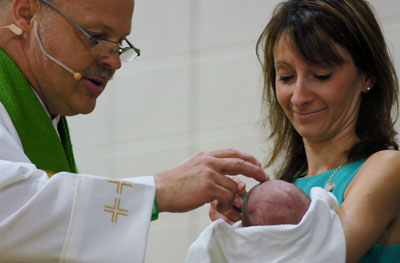 "He saved us through the washing of rebirth and renewal by the Holy Spirit." – Titus 3:5
When water and the Word of God come together in Baptism God changes the recipient from an unbeliever to a child of God. The Bible teaches that we can't choose Jesus on our own or come to him of our own accord. Our sinful nature rejects God.
Baptism creates the faith. When someone is baptized God forgives their sin and gives them faith. After baptism God continues to strengthen the faith of the baptized. It's one of God's great gifts to his people.
If you haven't been baptized or you have a child you'd like baptized the Pastors at Salem would love to meet you to talk about getting baptized. The meeting doesn't obligate you to baptism or membership and we'll meet you according to your schedule on your terms.
What is baptism?
The word "baptism" means to wash. When we talk about baptism at Salem we use it in a specific way that means to wash away our sins. The special washing uses plain water with the Word of God.
We typically request someone to be baptized in a worship service in a brief, public ceremony. The pastor will simply apply water to the head of the person being baptized and say, "I baptize you in the name of the Father and of the Son and of the Holy Spirit." We celebrate baptisms upon request. Contact one of our pastors to line up a time to meet.